Michael, George
June 25, 1963 - Singer; composer; musician; producer. Address: c/o Columbia Records, 1801 Century Park West, Los Angeles, California 90067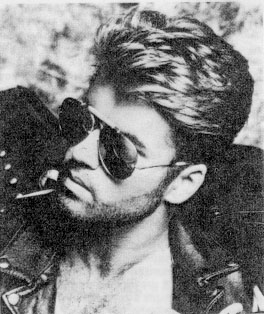 George Michael, who was the British-born creative force behind the highly successful pop duo Wham!, which he formed in 1982 with his longtime friend, Andrew Ridgeley, has became an international teen idol, thanks to his catchy songs and his undeniable sex appeal. Since abandoning Wham! and shedding his teenybopper image in 1986, Michael has emerged as a serious composer, singer and producer whose talents have evoked comparisons to Paul McCartney and Elton John. Faith, his 1987 first solo album, in which he experiments with openly sexual lyrics, examines the anxieties of romantic love, and dabbles in political commentary, has sold over fifteen million copies to date. Michael's dramatic transformation from teen idol to a much profounder artist delighted and surprised critics. Stephen Holden of the New York Times (October 28, 1987) wrote that Faith proved Michael to be "a songwriter and producer of exceptional talent and ingenuity", and Rolling Stone's (November 20, 1986) David Frieke referred to George Michael as "an unquestionably gifted songwriter in a field of other wise dismal hacks." So impressive was Michael's first album that it prompted some critics and record-company executives to predict that he will be a major force in popular music for many years to come.
George Michael was born Georgios Kyriakou Panayiotou in the Finchley section of London on June 25, 1963, the youngest child of Jack Panayiotou, a Greek Cypriot immigrant and restaurant owner, and Lesley Panayioutou, a housewife. He has two sisters, Melanie and Yioda. After his nearsightedness and partial color blindness forced him to abandon his first childhood dream of becoming a pilot, Michael decided that he wanted to be a recording star - a decision triggered by a tape recorder he received as a gift from his parents on his seventh birthday. "I literally never entertained any other thought in my entire childhood and adolescence after that," Michael told Steve Pond in an interview fro Rolling Stone (January 28, 1988). That gift infected the youngster with what he has called the "singing bug," and from that point onward, he devoted most of his spare time to recording pop tunes from the radio and singing along with them. At the age of eleven, he began "listening intently" to the music of Elton John and the group known as Queen. He also became enraptured by the Motown sound after discovering a stack of discarded Supremes and Temptations albums, along with an old phonograph, in the family garage. By the time he was twelve, his father's restaurant had become successful enough to enable the family to move to the prosperous London suburb of Bushey. It was there, at Bushey Meads School, that Michael met his future Wham! partner, Andrew Ridgeley.
Much has been written about Ridgeley's influence on the young George Michael. While Michael was introverted, awkward, and overweight in his aerly teens, Ridgeley was outgoing, handsome, and exstremely popular. Ridgeley helped to make Michael fashion-conscious and more personable, and in the interview with Steve Pond, Michael said of him, "The whole idea of being a physically attractive personally never really occurred to me until I met him." The pair learned of their mutual interest in pop music when they discovered that each owned a copy of the Elton John album Goodbye Yellow Brick Road. They became close friends and soon, according to Ridgeley, began spending afternoons with Michael's tape recorder "thrashing things out on a drum kit and an old acoustic guitar." They taped tunes from the radio and even created their own mock radio station, inserting ad-lib commersials and call-ins between the songs.
But George Michael's parents disapproved of his friendship with Ridgeley, whom they blamed for luring their son away from his studies and from what they considered to be more respectable ambitions. Jack Panayiotou had hoped that the boy would aspire to a prestigious profession, such as the law, since he wanted his son "to be better than he and to him only certain professions were respectable," Michael explained to Steve Pond. The anxious concerns and misgivings of Michael's parents turned out to be justified, for in 1979, when both were just sixteen, Ridgeley persuaded Michael to quit school in order to form their band, The Executive.
Before forming The Executive, Michael and Ridgeley had styled themselves as "soul boys." They dressed fashionably, listened to American soul and disco music, and shunned the often violent, politically oriented punk movement. Their soul-boy trend, however, was short-lived, and by the time the pair formed their first band, they had latched on to a new musical trend called ska, an upbeat dance music from the West Indies closely related to reggae. The Executive, which consisted of Michael, Ridgeley, David Austin, and Ridgeley's brother, Paul, performed only five times before tension among the members forced a breakup. Although the group never attracted more than limited local attention, Michael contended, as quoted by Chris Crocker in the biography Wham! (1985), that "if someone had been clever enough to pick us up and organize us properly, we could have had some really big hits."
The quick demise of The Executive did little to blunt Michael's ambition or confidence. Over the next two years, he worked at various odd jobs, but kept on composing, convinced that he and Ridgeley would ultimately become stars. Among the songs he wrote during that period were two tunes that later became hits for Wham!, "Careless Whisper" and "Wham Rap! (Enjoy What You Do?)," from which the group took its name. By December 1981, Michael and Ridgeley had completed a demo tape and had begun circulating it to record producers. Within two months, the tape had attracted the attention of Mark Dean, a former talent scout for Phonogram Records who had recently founded Innervision, an independent label distributed by CBS. In the spring of 1982 Dean signed Michael and Ridgeley to a contract, under the terms of which the pair received only about $700 each.
Shortly after signing with Innervision, Georgios Panayiotou changed his name to George Michael. In the summer of 1982 Wham!, as Michael and Ridgeley had decided to call their group, released its first album, Fantastic. "Wham Rap! (Enjoy What You Do?)," the first of four hit singles from the album, was a controversial rap parody that celebrated the free and easy lifestyle of unemployed British youth.The next single, "Young Guns (Go For It)," was another rap tune. Exemplifying the rebellious exuberance of early Wham!, it celebrated bachelorhood and male friendship, while deriding marriage. "Young Guns" made it to number four on the British pop charts and earned Wham! the first of many appearances on the popular British television show Top of the Pops-appearances that helped to propel the group to stardom. The follow-up single, "Bad Boys," rose to number two on the charts.
The success of Fantastic did not translate into financial security for Michael and Ridgeley, since their contract with Innervision limited their earnings from sales of the album and the singles to a total of only about $140,000. Seeking to be released from the contract, the duo hired Simon Napier-Bell and "lazz" Summers as managers. A seasoned professional who had managed such legendary groups as the Yardbirds, Napier-Bell succeeded in getting the contract voided, but the legal battles with Innervision cost Michael and Ridgeley virtually all the money they had earned up to that point.
Undaunted, Michael and Ridgeley signed a contract with CBS and began work on a new album, entitled Make It Big. Released in 1984, the album proved to be a radical departure from the rap-influenced style of Fantastic and the "bad boy" image that Wham! had cultivated to go with it. The scowls and leather jackets that had graced the cover of their first album were replaced by smiles, shorts, and suntans. Michael's dark, curly hair was tinted blond and feathered by his sister, Melanie, a Kensington hair stylist. The music that accompanied that new image was, in Michael's own words, "up-tempo, lightweight pop." Although some critics implied that Wham! had sold out by abandoning its rebellious image, Michael maintained that the group's new style was, in fact, more honest. "I'd been given this kind of young-social-commentator halo, and I just wasn't comfortable with it," he told Pond. "The way I saw it, I was gonna get found out one day anyway, so why not be honest and start making pop records?"
Wham!'s new carefree, optimistic sound brought Michael and Ridgeley the international stardom they had sought. Moke It Big reached number one on both the British and American charts and sold over four million copies in the United States alone. The singles "Wake Me Up Before You Go-Go," "Careless Whisper," and "Everything She Wants." also hit the top of the charts in the United States, marking the first time in the 1980s that three songs from the same album had reached number one. Another single, entitled "A Different Corner," was released as a solo effort by Michael. A moody ballad, it won critical acclaim and reached number one in Great Britain and number seven in the United States. The infectious "Wake Me Up Before You Go-Go" was the first Wham! number to transcend international boundaries, becoming a number-one hit in England, Australia, Belgium, The Netherlands, Norway, Austria, Denmark, and Ireland, as well as in the United States. "Wake Me Up Before You Go-Go" also brought Wham! a Grammy nomination for best pop performance by a duo, and the best-new-video-artist prize in the third annual American Video Awards. In England, Michael was honored with the Ivor Novello Award for best songwriter of 1985 by the British Academy of Song-writers, Composers, and Authors. The award was presented by Michael's childhood hero, Eiton John, who proclaimed him to be "the greatest song-writer of his generation . . . in the league of Paul McCartney." Wham! had indeed made it big and along with their popularity came an unprecedented amount of media attention. The duo became the darlings of the London tabloids, and their exploits. whether real or fictitious, were heralded by screaming headlines. Only the royal family received more attention from the gossip-oriented press.
In April 1985 Wham! became the first major Western pop band to perform in the People's Republic of China, giving one concert in Beijing and another in Canton. They were allowed to appear only after they submitted a video of a live performance to Chinese cultural officials and agreed to omit the erotic song "Love Machine" from their act. Michael and Ridgeley shouldered the entire cost of the tour but hoped to recover their money through sales of a tour video. The first concert, in Beijing on April 7, was a sellout, with some scalpers charging a week's wages in exchange for a ticket. Although enthusiastic, the audience was unsure just what to make of the music or how to react to it. Whether out of confusion or obedience to an official announcement requesting that they "remain seated and watch with patience," the audience listened passively and applauded politely at the end of each song. Writing in the New York Times (April 8, 1985), John F. Burns said this ambivalence is "characteristic of the perplexity that is common when Chinese encounter a new facet of Western culture firsthand."
Wham! also toured the United States in 1985. In addition, that year saw the release of their third and final album, Music From The Edge of Heaven, which included the hit singles "I'm Your Man" and "The Edge of Heaven." Michael wrote and produced most of the songs on the album and also played most of the instruments. When, in early 1986, Michael announced that he was leaving Wham! later in the year in order to pursue a solo career, he offered several reasons for his decision. Foremost among them was the artistic confinement that he felt Wham!'s whimsical style had imposed on him. "I totally threw away my personal credibility for a year and a half in order to make sure my music got into so many people's homes," Michael explained to David Fricke. "It was a calculated risk, and I knew I would have to fight my way back from it." In an interview with Arthur Herman of United Press International that appeared in the Chjcago Tribune (November 19, 1986), Michael said of the split, "Both of us had basically had enough . . . But the main reason was that we'd done everything we wanted to do. We thought it was far better to break while we were on top." Michael's despondency over a failed romance has also been cited as a reason for his decision to go his own way. Wham!'s final concert, in June 1986 at Wembley Stadium in London, sold out 80,000 tickets in less than twenty-four hours, and teary-eyed fans held up banners, begging Michael and Ridge-ley to stay together. After the breakup, Ridgeley moved to Monaco to pursue a career as a racecar driver, while Michael began his solo career in earnest.
As a solo performer, Michael was determined to erase the public's memory of the blond pinup who had written lightweight pop. He began to sport a new and more rugged look, maintaining a two-day growth of beard and returning to the black leather jacket of his early Wham! days. It was, as Michael explained to Steve Pond, "a very simplistic, very obvious way to prove that I didn't have to be that guy in the white suits and the blond hair." He also assured his fans that his new music would be "more abrasive and sexual, much more real." Having parted company with managers Napier-Bell and Summers because of their plans to sell their company to a firm with South African connections, Michael became his own manager. His first career decision, to record a duet with the legendary soul performer Aretha Franklin entitled "I Knew You Were Waiting (For Me)," was a sound one, for the song became a worldwide number-one single and earned a Grammy Award.
George Michael's fledgling solo career was hit by controversy in the summer of 1987, when he released the single "I Want Your Sex," from the forthcoming album Faith. Because of its provocative title and such risque lyrics as "Sex is natural, sex is good/Not everybody does it/But everybody should," the song was limited to nighttime radio play in England and banned entirely by about 30 percent of American radio stations. "My personal view of censorship is that it just amplifies what you're trying to censor," Michael commented to Stephen Holden during an interview that appeared in the New York Times on June 24, 1987. "When I wrote the song, I anticipated that there might be a little controversy over the use of the word 'sex,' but nothing like what has happened. Considering all the sexual innuendo on radio and television, the whole fuss over this one song strikes me as rather hypocritical." In spite of the obstacles it encountered, the throaty, saiga-inspired tune reached number two on the American charts.
Faith was released on November 2, 1987. In addition to producing the album, Michael composed all of the songs and played bass, drums, and keyboards on most of the cuts. Faith quickly reached number one on the American album charts and, as of September 1988, it had sold more than five million copies in the United States and fifteen million worldwide. The album also yielded four consecutive number-one singles: "Faith," "Father Figure," "One More Try," and "Monkey." In May 1988 Faith became the first album by a white solo artist to reach the top of Billboard magazine's black album chart, reflecting its enthusiastic reception by black listeners, an achievement that Michael called "the highlight of my career."
In Faith, George Michael abandoned the froth of Wham! and established himself as a serious songwriter of the first order. Critical reaction to the album was overwhelmingly positive. Writing in Rolling Stone (January 14, 1988), Mark Coleman said: "Faith displays Michael's intuitive understanding of pop music and his increasingly intelligent use of his power to communicate to an ever-increasing audience." Edna Gundersen of USA Today (August 2, 1988) credited Faith with being "a mature examination of both romantic entanglements and social issues, [which] offers astounding diversity." And Stephen Holden remarked in the New York Times (May 29, 1988) that "Mr. Michael's metamorphosis from journeyman to innovator has been so swift and dramatic that one can't begin to imagine where he'll go from Faith." Michael's first solo tour of the United States, during the summer of 1988, was a spectacular success. He sold out all twenty-four performances and outdrew some of the most prestigious names in rock 'n' roll.
George Michael stands six feet tall, weighs 160 pounds, and, according to Stephen Holden, is possessed of "furry-eyebrowed. pug-nosed good looks." Although his personality has been described as being introspective and analytical, he is well known for having a keen business sense and, since relinquishing the services of Simon Napier-Bell and ")azz" Summers, he has effectively handled his own business affairs. "Testimonies to Michael's shrewdness and perspicacity are legion," wrote Mick Brown of the London Times (June 22, 1986), Napier-Bell himself commented to Brown in the same article, "George picks up on things and their importance extremely quickly. He immediately understands what lawyers mean, for example, which most artists don't. He's very cautious with people, and very careful in evaluating them."
A bachelor, George Michael lives in a town house in the Kensington section of London. He also owns a beach house on the Riviera. A dedicated student, fan, and supporter of popular music, he has few nonmusical interests and, in fact, spends most of his spare time listening to other artists. "People have the perception that if all you write is pop music, as opposed to something that reveals a far deeper character, it's because that's all you can do. Not because it's all you choose to do, and not because it's the area you love", Michael remarked to Steve Pond. "Somewhere along the way, pop lost all its respect. And I think I kind of stubbornly stick up for all of that."
---
References: London Sunday Times mag p 22 + Se 22'86 pors; People 24:66 + S 23'85 pors; Rolling Stone p 84 + #20 '86, p 28 + Ja 28'88 pors; USA Today D p1 + Ag 8'88 por; Crocker, Chris. Wham! (1985); Gold, Todd. George Michael (1987)
---